Do you need to know the location of someone important in your life? Many people around you or your friends often tell lies about where they are.
Therefore, to find out whether they are lying or not, we need cellular tracking software. Especially for those of you who have an iPhone often do not have an easy application compared to Android.
However, you are not worried, I will explain the GPS tracker app for iPhone that is recommended for you.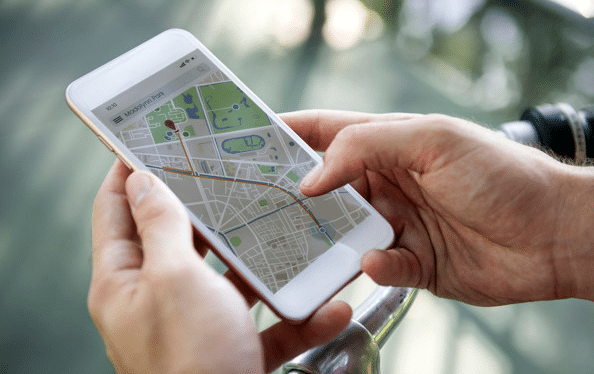 What is the GPS application on the handphone?
This application is cellular software created to track information and activities found on the target device. This information has been obtained, then forwarded to a secure remote control panel where all data can be checked and viewed easily.
There are two types of features on mobile that involve features and uses. First is a free feature, usually offered as a time test option only.
Because the selected feature is free, of course, traceable data is limited and does not need to pay.
The second is a premium option package which usually you have to pay a certain amount and can access complete and sophisticated features.
Some applications apply this trial premise option package to consumers for the first until three months, after which consumers must pay to access it.
Top list GPS tracker app for iphone:
Find My iphone
The Find My iPhone application is an iPhone tracking application that can track an iPhone while connected to the internet.
This application can help you when you have confidential information stored in your iPhone, you can easily delete it with a few clicks. This application has features:
Deleting content remotely, can find the location of our iPhone by clicking "Play Sound" then this iPhone will make a sound at maximum volume even when the iPhone is off.
Phone Tracker
The Phone Tracker application can track cellphone locations without the knowledge of iPhone users. This application can track the real-time location of the iPhone through another device.
The features offered are: you can track iPhone devices for up to 10 users, have complete and extensive routes, are available in various languages, get notifications about the location of family members, relatives or your friends.
FamiSafe
FamiSafe is called the best iPhone tracking application. This application is designed to track the location of your iPhone device and get access to their call history too. This application is very much appreciated by many people because by using this application can block the web and set the screen time when used or when it cannot be used.
Spyzie
The best alternative GPS application for the iPhone is Spyzie. Spyzie is a very complete application because it can help you track the location of your iPhone, WhatsApp messages, photos, and installed applications.
The feature of Spyzie is being able to monitor social media applications on your iPhone, track call logs and it can capture screenshots through this application.
Glympse
Glympse is a fast and efficient free iPhone tracking application available on the App Store.
By using this application, you do not need permission from the person whose cellphone will be tracked. When you and your friends both have this application, you can see each other's location.
If your iPhone is lost, you can track it from your friend's device.
Another GPS tracker app for iPhone which also has very many benefits as explained above is IDTRACK. Server GPS ID TRACK at indonesia has simple, uncomplicated and inexpensive features.
To download this app , click the following link: IDTRACK GPS